In this issue:
Storming the Gates crusade,
annual leadership conference,
launching of the Flaming Arrow Network,
an urgent need,
and more.
Read more…
This past March, End Time Harvest Ministries hosted a team from the USA, and it was a tremendous blessing to everyone who was ministered to!  Read more…
Sin separates from God. Jesus Saves!
Here are a few of the 150 who gave their lives to Christ during the three nights of the crusade.  Read more…
Pastor Jerry is the leader appointed by Christian Faith Church to lead the church that End Time Harvest Bible College recently helped plant in their last crusade. Since the church was established, Pastor Jerry testifies the membership has grown by 50%! Read more…
Church Planting Crusade – Mptsin, Ghana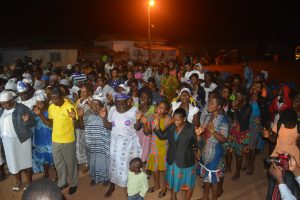 End Time Harvest Bible College embarked on a Three day "Storming the Gates" Crusade in the township of Mptsim.  The main focus of this crusade was to partner alongside of Christian Faith Church to plant a church for them in this township.