End Time Harvest Bible College held their first "Storming the Gates Crusade" of 2017 in the township of Ekuasi.  Throughout the evangelical outreach, over THREE HUNDRED souls were reached for Christ, and placed for discipleship into the various local churches that had joined ETHBC on this mission! Read more…
Storming the Gates Crusade — Ntankoful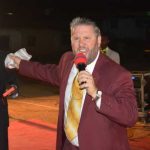 Jesus commanded us to go into all the world and preach the gospel to every creature (Mk. 16:15).
Ntankoful may be a  small village located in the Western Region of Ghana, but the people that had gathered at the crusade were in desperate need of Jesus to save, heal and deliver.  I saw a town that was desperate for the presence of God.  Read more…
Komenda is a fishing village located in the Central Region of Ghana, approximately 60 miles away from the Bible College.
What a first night!  Our students and those in attendance, danced and worshiped in the rain. With lightening cracking in the distance, men and women knelt and laid prostrate before our God.
Storming the Gates Crusade — Shama Junction
End Time Harvest Bible College embarked on their first crusade for the year in a township named Shama Junction.
Shama Junction is situated 10 minutes away from the Bible College.  This township, specifically the area where the crusade was held, is a Muslim dominated area.