Storming the Gates Crusade — Ntankoful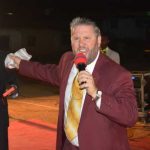 Jesus commanded us to go into all the world and preach the gospel to every creature (Mk. 16:15).
Ntankoful may be a  small village located in the Western Region of Ghana, but the people that had gathered at the crusade were in desperate need of Jesus to save, heal and deliver.  I saw a town that was desperate for the presence of God. 
Throughout the three nights of the crusade, as well as the evangelistic outreaches throughout the crusade, we saw just over 150 men and women surrender their lives to Christ.
 These  ladies were healed from
pain in the legs!
Since opening End Time Harvest Bible College in 2001, over 37,000 have been led to the Lord through our outreach ministries and placed in local churches for discipleship.
Four churches in Ntankoful have received over 150 new converts.
Praise God and give Him Glory for the great things He has done!