Storming the Gates Conference 2015
The students of End Time Harvest Bible College encountered the divine presence of the Holy Spirit during their annual Storming the Gates Conference held at both the Takoradi and Tarkwa campuses!  It was exciting to see God minister daily through His Word, as students received fresh insights from the Word and received a great impartation from the Lord!
This year, End Time Harvest Bible College was blessed to receive the Senior Pastor and the Administrative Pastor from Abundant Harvest Church in Pennsylvania.  Pastor Matt Zang Pastor Matt ministered on topics such as the Holy Spirit's ministry to the believer, How to hear the voice of the Spirit, and the Anointing.  Pastor Ken ministered on how to be an effective supporting minister.
Friday morning, the missionary team along with the staff of ETHBC laid hands on the students where the students received an impartation of the anointing of God upon their lives!
Student Testimonies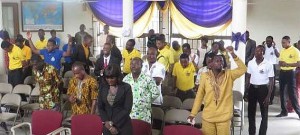 "Oh, how God touched me on the last day of the conference!  I thank God I had an encounter with the Holy Spirit that left an indelible and deep mark on my spirit.  I feel a fresh fire and love for the Holy Spirit and His Word!"  (Bright Whajah—2nd Year Diploma Student)
"I was really blessed with the second chair pastoral message ministered by Pastor Ken.  Not only do I feel rejuvenated in my ministry, but I really have a new mentality on how to serve your senior pastor from the second chair position."(Emmanuel Atta-Mensah—Bachelors Degree Student)
"Indeed 2015 Storming the Gates Conference at ETHBC was awesome and I have learned how to serve under a Senior Pastor without implementing any new vision, but rather supporting him to build his vision.  The impact was very great and I look forward to next year's conference."  (Pastor Joseph Anderson—Alumni)
"…We need to depend on the Holy Spirit, for He is the one who stands by us!  Personally, my spiritual life is revived!" (Pastor Stella Yawson—Lecturer at ETHBC)
"…To me, the conference was a time of retreating from the normal schedule for re-instruction, refreshing and refurnishing for the task ahead as we journey through this life and ministry."  (Pastor Festus Adjei-Mensah—Lecture at ETHBC)